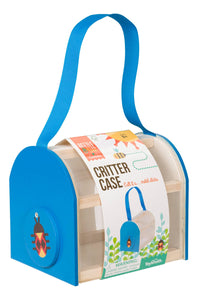 The Beetle & Bee Garden Critter Case is built with sturdy FSC Certified wood and breathable mesh sides to make it easy to watch critters up close.
This provides a safe way for kids to learn before releasing captured critters back into their natural habitats using the easy-to-open side door.
Built with FSC wood, the gold standard in ethical production, sourced from responsibly managed forests that are environmentally conscious, as well as socially and economically beneficial.
Eco-friendly, durable materials make it ideal for outside exploration and active play.
• Brand - Beetle & Bee Garden
• Age - 5+
• Dims - 6.3 L x 5.12 W
• Weight - 8.6 ounces
• MOQ - 4
• Batteries not required