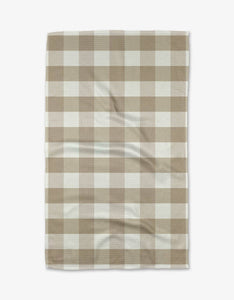 Betty Bakes is the perfect kitchen companion for all your eco-friendly baking adventures! Embark on a green plaid journey with this charming tea towel that's sure to make your counters smile!
Eco-approved and cozy cute, this towel will make your baking experience the cream of the crop. 
We believe in sustainability.  Our design is inspired by the beauty of the world around us, and we want to keep it that way.  Geometry is committed to helping the environment by using post-consumer recycled materials.  This towel is made from 3.5 recycled water bottles.
Single-sided print 
Hang loop
Waffle weave construction
Quick-drying technology keeps your towel fresh.
Superior Cleaning
Next-level absorbency - absorbency holds up to 7x its weight.
Weight: 320 gsm