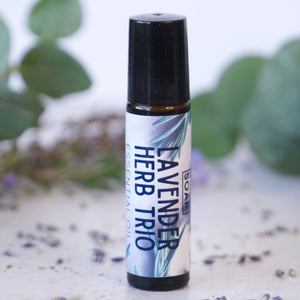 This roller adds depth to the familiar and popular lavender with the addition of eucalyptus and rosemary essential oil.
Take the calming, grounding scent from our popular Lavender Herb soap with you throughout your day!
We blend pure essential oils and nourishing coconut oil into a quality roller that easily slips into a pocket, backpack, purse or desk drawer.  
 Ingredients: Coconut Oil, Lavender, Eucalyptus and Rosemary Essential Oil