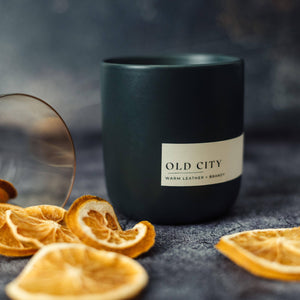 WARM LEATHER & BRANDY
Our OLD CITY scent, hand-poured in a matte charcoal ceramic vessel made for repurposing.
TOP: bergamot, candied orange, MIDDLE: geranium, leather, rosemary BASE: oakmoss, patchouli, clove, tobacco
SIZING: 10.5 oz.
HEIGHT: 3.75"
DIAMETER: 3.5"
BURN TIME: approx 55 hours
Hand-poured. Ethically and sustainably sourced natural beeswax, coconut, palm, and soy wax blend. Non-toxic crackling wood wick.
All-natural.
Free of parabens, phthalates, & petroleum derivatives.