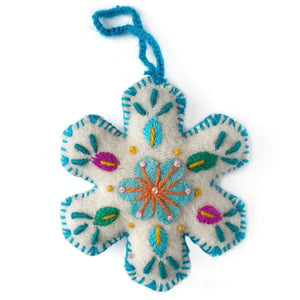 Give your Christmas tree a brilliant burst of color with our felt embroidered snowflake ornament.
Snowflakes are handmade by artisans in Peru, South America using traditional techniques. Each ornament is hand embroidered with vibrant thread and embellished with a felted flower at the center. Just like real snowflakes, no two are exactly alike.
Dimensions: 4.5" high x 4.5" wide
Materials: sheep wool, yarn
Ornaments 4 Orphans is a member of the fair trade federation. Every purchase strengthens families, enriches communities, and helps orphans and vulnerable children in the areas the items are sourced.