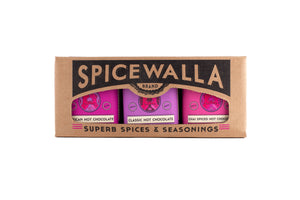 Our steamy, limited edition, sippable alternative to the traditional box of chocolates.
Made with premium, delicious Guittard Chocolate, this limited edition Hot Chocolate 3-pack gift set includes our Classic Hot Chocolate, Chai Spiced Hot Chocolate, and Mexican Spiced Hot Chocolate.
Just add 2 Tbsp to 1 Cup of milk or milk alternative and whisk on medium/low heat until hot. Then grab some heart-shaped mini marshmallows, and get ready for mind-blasting, drinkable chocolate decadence.
Sip, LOVE, and believe!