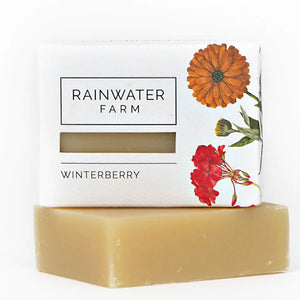 Winterberry Soap works to retain the skin's natural protection, while also harnessing the moisturizing effects of coconut oil, olive oil, and lanolin. 
Designed to guarantee soft skin throughout the winter months without needing extra lotion or moisturizer, the soap promises long-lasting relief from discomfort.
Ingredients: distilled water, tallow, olive oil, coconut oil, sodium hydroxide, essential herbal oils (ginger, cassia, eugenol, bergamot, nutmeg, spearmint, lavender, palma rosa, wintergreen, grapefruit, clementine, peppermint), lanolin

We do not use: artificial fragrances, phthalates, petroleum and other petrochemicals, sodium laurel/laureth sulfates, parabens, optical and UV brighteners, nanoparticles, p-Phenylenediamine, phenoxyethanol, propylene glycols, toluene, triclosan, or any other artificial or chemical additives. 
Our products are completely gluten, corn, and soy-free.
Made in Maryville, TN