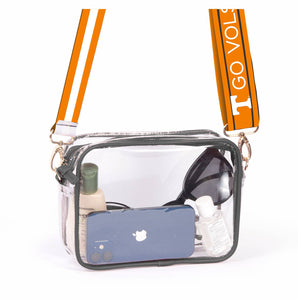 Trending Now! Game day style never looked so good, our new clear purse comes with 2 sets of straps! 
You can now switch between the black regular strap if you're heading to a concert or go with the Go Vols orange and white officially licensed strap for all of your 
Change up your look between matching vegan leather or our new reversible patterned shoulder straps. 
What's to love about the Bridget:
* Crafted of clear vinyl and soft vegan leather, featuring brass hardware accents
* Stadium Approved Sized at 8" x 6" x 2"
* Includes 2 adjustable purse straps for changing up your look in a snap
* Easily wipes clean
* Zipper closure