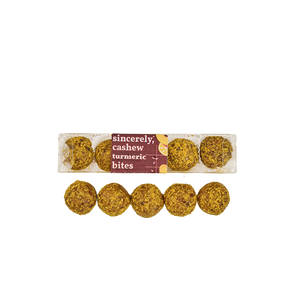 Indulge in the sweet and satisfying taste of our gluten-free, grain-free, dairy-free, vegan and paleo-friendly Cashew Turmeric Bites. Made with the finest natural ingredients, including dates, cashews, organic coconut and a touch of lemon.  These bites are not only delicious but also good for you.
In addition to being delicious, our Cashew Turmeric Bites are also packed with the benefits of turmeric. This powerful anti-inflammatory agent has been used for centuries in traditional medicine for its numerous health benefits. To enhance the absorption of turmeric we added black pepper, this help the body to better absorb the turmeric.
For perfectly balanced flavor we added lemon, this gives a nice tangy taste to our bites. A perfect snack option on-the-go, post-workout or as a healthy alternative to processed snacks. Enjoy the taste and benefits of our Cashew Turmeric Bites, order now and indulge in the goodness of nature.
One pack comes with 5 Cashew Turmeric Bites.
Paleo, Vegan, Grain Free, Gluten Free, Soy Free, Dairy Free, Refined Sugar Free, Preservative Free and Celiac Friendly.
Perfect for everyday indulgence, corporate events, or any special occasion, our product makes a wonderful and thoughtful gift for someone special.