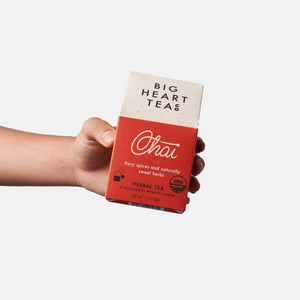 Our peppery, naturally sweet chai stimulates digestion and warms you up from the inside.
Ingredients: organic tulsi, organic red rooibos, organic cardamom, organic cinnamon, organic ginger, star anise, peppercorn, allspice.
We designed our bags extra big to give the tea room to fully expand and breathe while it steeps. Contains 10 compostable tea bags.
Dimensions:  3"Wx2.75"Lx5.25"H
Certified Organic by ODAFF
100% recyclable outer packaging and 100% compostable inner packaging