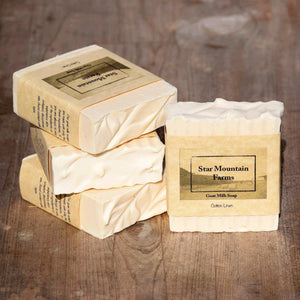 A Luxurious soap made with goats milk. Deep lather and skin conditioning with a fresh cotton linen scent.
Each of our soaps are made with 100% natural oils and are prepared in small batches giving us strict control as to how each is made. Because all of our soaps are made by hand, each bar varies from all the rest. The one you receive may not look exactly like the one pictured here.
Size:  Approx. 5 ounces. Each bar measures 2.75" wide, 3" tall and one inch thick.
Packaging:  Each bar is individually wrapped in a band made with recycled paper and fragrance printed on the front.  
Ingredients: Organic Coconut and Olive Oil, Soybean Oil, Pure Goats Milk, Natural Hardener, Organic Colorant and Fresh Cotton Linen Fragrance.