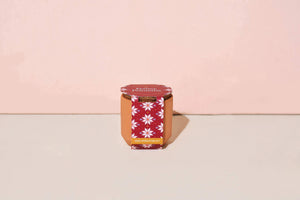 This indoor grow kit features a terracotta vessel with a glazed interior outfitted with a nested coconut net pot that provides drainage and can be transplanted to a pot or garden if a larger plant is desired.
Comes equipped with everything you'll need to start growing, just add water and set in a sunny window. Perfect stocking stuffer, hostess or teacher gift, and more! Grow Kits are assembled in Chicago of domestic and imported components.
Festive Poinsettia: Certified Non-GMO Poinsettia Seeds.
A holiday favorite, this plant's foliage features an incredible range of colors perfectly complimented by brilliant red-orange foliage blooms. 
_________________________________________________________________________
We have sustainable solutions. Since its founding, Modern Sprout has been committed to domestic sourcing and manufacturing when possible, reducing plastic materials in its products and packaging, and building its products with sustainable materials.
From donating a percentage of proceeds to the Pollinator Partnership for ecosystem protection, to partnering with the Heartland Alliance to provide employment for Chicago's most vulnerable residents, Modern Sprout is dedicated to making our community and earth a better place.