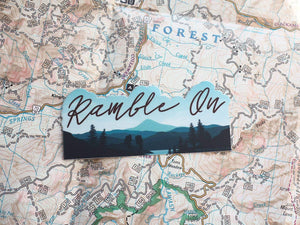 Inspired by lyrics from Led Zeppelin's iconic song "Ramble On", this sticker was designed to inspire a little wanderlust each time you see the beautiful landscapes. And you'll probably get these classic rock lyrics stuck in your head every once in a while. Sorry, not sorry!
Show off this waterproof vinyl decal on your Hydroflask water bottle, or stick it on your car bumper, RV camper, or motorcycle panniers. We hope it serves as frequent encouragement to appreciate nature and stay wild. Ramble on!
Dimensions: 3.5" wide x 1.5" high.
Die cut waterproof vinyl with a matte UV protective finish designed to endure many years of travel and use indoors and outdoors.
Made in Idaho.