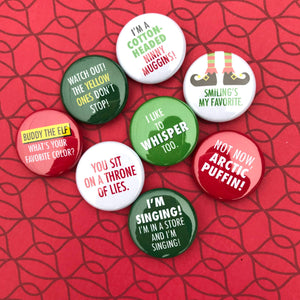 How could you not love Buddy the Elf?  These Elf buttons are the perfect stocking stuffer or gift for that friend or family member who quotes the movie as much as we do.
* Set includes eight 1-inch buttons.
They are about the size of an American quarter.
Featured movie quotes are: I'm a cotton-headed ninny muggins! Smiling's my favorite. Watch out! The yellow ones don't stop! I like to whisper too. Buddy the Elf, what's your favorite color? You sit on a throne of lies. I'm singing! I'm in a store and I'm singing! Not now, arctic puffin!