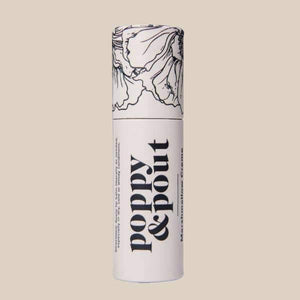 🌼 FLOWER POWERED LIP BALM | MARSHMALLOW CREME - Get in touch with your inner flower child with our vintage inspired, 100% natural lip balms. They are hand poured into beautifully designed, biodegradable paperboard tubes. Our Marshmallow Creme lip balm is the perfect way to hydrate your lips and will leave you feeling sugary sweet!
🌼 MADE BY HAND - It takes a little extra care to fill paperboard tubes. Our lip balms are hand poured at our Poppy & Pout headquarters in Idaho. I guess you could call us a bit old school, but love & care goes into each balm.
🌼 100% NATURAL INGREDIENTS - Cocos Nucifera (Coconut) Oil, Cera Alba (Beeswax), Helianthus Annuus (Sunflower) Oil, Natural Marshmallow Flavor Oil, Vanilla Planifolia Extract, Tocopherol (Vitamin E)
🌼 DOUBLE THE BALM - Our lip balm tubes are 0.3 oz which is nearly twice the size of a standard lip balm tube.
Net Wt .3 oz / 8.5 g | Cruelty-Free