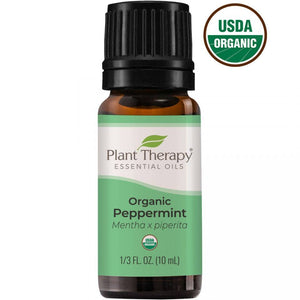 Organic Peppermint is a perennial herb that grows widely in Europe, North America, and Asia. This leafy plant grows close to the ground and produces smooth, dark green leaves with clusters of small pinkish lavender flowers.
Originating in India, Organic Peppermint has been used for centuries for its revitalizing properties. Steam distilled from the leaves of the mint plant, Organic Peppermint Essential Oil creates a strong aromatic scent that has a fresh, cool, minty smell.
This scent is invigorating to the senses that promotes energy and alertness. It is a refreshing and stimulating oil that is both soothing and enlightening.