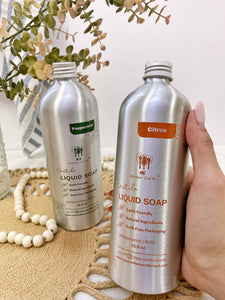 A truly all-in-one natural soap, super versatile liquid soap that can be used to clean just about anything!
Use as a dish soap, hand soap, body wash, shampoo, veggie wash, pet shampoo, floor cleaner, laundry detergent, and more!
It's made with simple, clean, and non-toxic ingredients, which is why it can be used on your both your skin and body or for household cleaning.
Ingredients: Saponified oils of sunflower* and coconut*; essential oil blend, vegetable glycerin*; rosemary extract. *Plant-derived Options: Citrus or Peppermint
Size: 15.9 oz bottle
Optional: can be diluted with water! 1:1 parts castile with water for dish soap or hand soap. 2:1 castile to water for foaming body wash. 1:1 parts with baking soda for a natural soft scrub.
Mother Earth Approved: Packaged in an INFINITELY recyclable aluminum bottle.
Leaping Bunny Certified Cruelty-Free.
Certified organic base oils.
Made in the USA