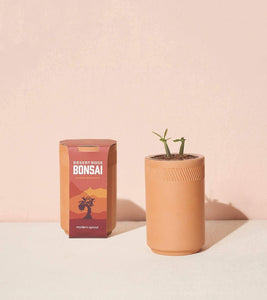 Channel the Southwest with these desert inspired self-watering grow kits.
Features a terracotta planter with a glazed interior.
Includes: organic and/or non-GMO seeds, plant food, stainless steel netpot, grow medium, carbon, wick, instructions.
At Modern Sprout, we see gardening as meditative and thoroughly rewarding, yet we understand it's not without its headaches. Our mission is simple: uncomplicate indoor gardening.
We have sustainable solutions. Since its founding, Modern Sprout has been committed to domestic sourcing and manufacturing when possible, reducing plastic materials in its products and packaging, and building its products with sustainable materials.
From donating a percentage of proceeds to the Pollinator Partnership for ecosystem protection, to partnering with the Heartland Alliance to provide employment for Chicago's most vulnerable residents, Modern Sprout is dedicated to making our community and earth a better place.