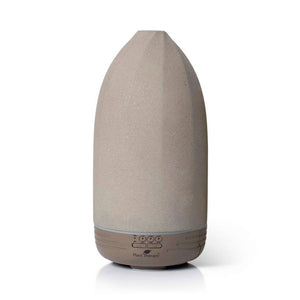 A stylish addition to any decor, the Metro Stone Diffuser brings contemporary sophistication with its sleek style and natural solid cement cover.
Drawing inspiration from the stone structures and dramatic silhouettes of a bustling Metropolis, this ultrasonic diffuser adds an artistic touch to your living room, bedroom, or home office.
Featuring soft, ambient lighting and four timer settings, you are able to completely customize your diffusion experience with your favorite essential oils. The Metro Stone Diffuser features a water reservoir (120 mL) that covers an area of approximately 322 square feet.
It requires no heat or chemicals, allowing the essential oils to retain all of their natural benefits. With continuous and intermittent settings, you have complete control over how long you choose to diffuse, along with the peace of mind knowing that this diffuser will automatically shut off when the timer is complete or the water has run out.
*When used continuously and as directed,