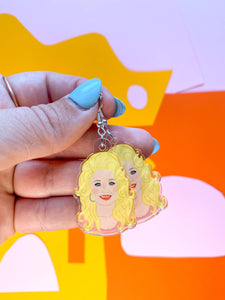 Whether you're working 9 to 5, heading out on the town with the girls, or chatting via Zoom, you can't go wrong with these adorable Dolly Parton earrings. 
Throw on these super cute gals with your favorite romper, jean jacket, and blast your favorite Dolly song.
1.12" x 1.5" Acrylic charm with sterling silver earring hook and silicon backer.
Comes on paper packaging.
Designed and made locally in Knoxville, TN