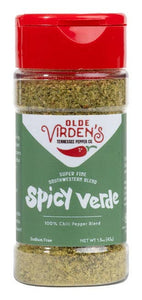 Dehydrated Chili pepper powder.  From the farm to the bottle, Olde Virden's is dedicated to producing the cleanest pepper blend on the market.  Our goal is to provide chefs and consumers with an unforgettable seasoning crafted with just one natural ingredient:  chili peppers.
A blend of five southwestern chiles. Our products are 100% chili peppers with no sodium, sugar, additives, or preservatives.  
Spicy Verde is a great addition to any dish.  Add it to your eggs, soups, or guacomole.  It gives a great pepper flavor with a pleasant amount of heat.
Ingredients:  Serrano, Habanero, Jalapenos, Anaheim, Poblano Peppers
Gluten Free
Weight (lbs): 0.15625. Width (in): 1 3/4. Height (in): 4. Size: 1.5 oz. 
Made in Knoxville, TN