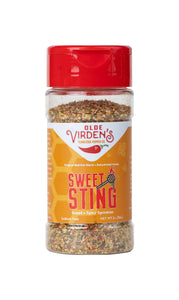 Sweet Sting combines the sweetness of honey with the heat of our Red Hot chili pepper blend.  Add a sprinkle to your pizza to take it to the next level.  Our spicy dehydrated honey crystals add the flavor of hot honey without all the mess.  Try it on chicken, popcorn, ice cream, or your favorite cocktail.
Naturally made with no artificial sugar, preservatives, additives, or anti-caking agents.  
Ingredients:  Dehydrated Chili Peppers, Honey Granules, Cane Sugar
Gluten Free
Weight (lbs): 0.15625. Width (in): 1 3/4. Height (in): 4. Size: 1.5 oz. 
Made in Knoxville, TN