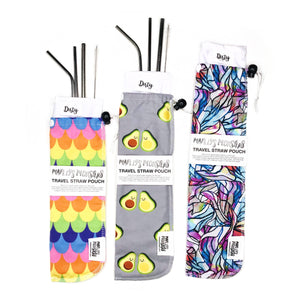 Description
Say no to disposable straws on-the-go! It can be difficult when you are traveling or out and about if you aren't prepared, which is why we designed the perfect pouch for traveling with straws.
Each pouch comes with a removable interior wet bag to keep your dirty straws separate from the clean ones. The wet bag snaps in and out, making it easy to remove and wash. 
Straws sold separately.
Pouches are large: Fits larger straws up to 10" tall. The exterior dimensions are approximately 12" tall by 3.5" wide.
Materials:
Main bag: 100% cotton flannel.
Interior wet bag: PUL material made of 83% polyester, 13% polyurethane.
Handmade in Eugene, OR USA by Marley's Monsters®
* Young children should always be supervised while they use stainless steel straws.