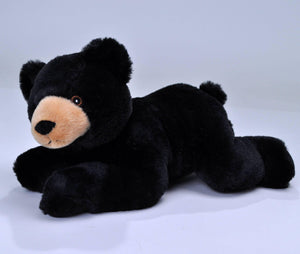 Every kid has a larger than life image and while playing outside they use their minds in unique ways. These black bear stuffed toys are not much different. These zoo animals will make a perfect stuffed animal because they enjoy spending time outside, climbing trees, and exploring caves. After climbing trees, The black bears will sometimes make their Den in a tree, similar to a treehouse. Finally, at the end of the day, they make for excellent baby toys and toddler toys to help your kids hibernate during the night. If you are browsing for a gift for teens, Christmas gifts, or a birthday gift for kids, This black bear will be the kid's toy they cherish.
Ecokins are made from 100% fabric and plastic fiberfill. Embroidered eyes and nose. 16 water bottles are used to make one 12 Ecokin.
Recycled paper hangs tag with cotton string instead of the plastic tagger. Biodegradable packing.
Our Mission has always been to deliver toys and stuffed animals that foster curiosity about wildlife