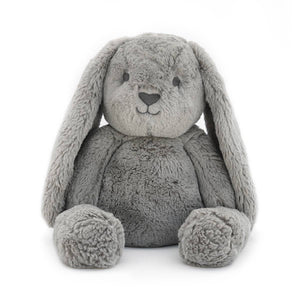 Designed by O.B. Designs in Australia, our popular soft toys are irresistibly cute and a great companion for your special little one. The soft color palette is inspired by our home in Byron Bay and surroundings. We are passionate about design and use a combination of master craftsman and high-quality materials to create our collection. Each toy comes with a sweet and fun bio. Perfect for gifting and a wonderful keepsake
Bodhi Bunny's Plush Toys Bio:
Job: Urban Shaman
Likes: Wellness Retreats and Bliss Balls
Why people love us?
* ethically made by SEDEX accredited manufacturer
* small batch
* eco friendly packaging
* recycled material swing tags
* recycled inner beads of toys
* compostable polybags
* female owned
This toy Features Generous 15 inches long x 8 inches wide
Weighted beads in arms
Toy hook so it doesn't get lost
Safety:
O.B. Designs' products are made to the highest standards, however if used incorrectly and breakage occurs, they may become a choking hazard. Please check before each use and discard at the first sign of wear. Do not alter in any way and always use under adult supervision. Machine Wash before use and hang dry. Inspect product for defects before use. Do not leave with babies unattended or when sleeping.
Our soft toys meet EN71 1,2,3, ASTM and ASNZ toy standards for children under 36 months.
Made in China. Designed in Byron Bay, Australia.