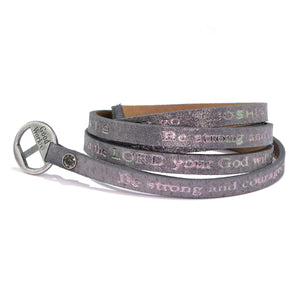 Bible Verse Wrap Around Bracelet
Our signature Bible Verse Wrap Around bracelets in new shimmering leathers are an everyday reminder that God is always with you with encouraging Bible Verse from Proverbs 3:5-6, Joshua 1:9, Matthew 7:7, Philippians 4:13, Jeremiah 29:11, and Matthew 19:26.
Good Works Make a Difference donates 25% of net profits to GOOD causes.
Product Details Length 36"
Adjustable to fit all size wrists Leather foil stamped with Bible Verses Custom Good Works Buckle Metal Type: Alloy