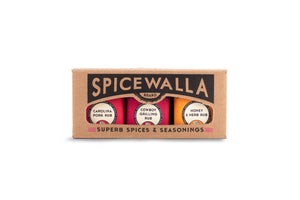 Fire up your grill and break out the meats! The grill & roast collection is here to take the guesswork out of marinades, rubs, and seasonings.
Try them on vegetables! Live life on the edge!
Spices: Cowboy Grilling Rub - Carolina BBQ Rub - Honey Herb Rub.
Carolina BBQ Rub - If you love a good Carolina BBQ Sauce, you've found the dry rub of your dreams here. Smokey, spicy, sweet with a zing of apple cider vinegar and punchy yellow mustard, this BBQ rub is perfect for pork, poultry, or roasted potatoes. Apply generously before grilling, roasting, or slow-cooking.
1.5 oz Tin
Yellow Mustard, Light Chilli Powder, Salt, Brownulated Sugar, Smoked Paprika, Black Pepper, Sugar, Apple Cider Vinegar, Garlic, Onion, Celery Seed, and Cayenne
Cowboy Grilling Rub - Well y'all, we've perfected the ultimate fireside companion and saddling up for a whole new rodeo. This updated blend will have your boots scootin'! With spicy, smoky, herbaceous, this rub will enhance just about anything that touches the grill. Yeehaw!
1.5 oz Tin
Black Pepper, Garlic, Paprika, Salt, Cumin, Fennel, Red pepper
Honey & Herb Rub - This gourmet-style rub is influenced by cedar plank salmon flavors and is perfect for salmon. Simply add to fish before cooking or grilling. An efficient and perfect blend of spices for all things seafood. One can also use this Seafood Spice blend on chicken, pork, rice, or any recipe that needs a little extra flavor. Other quick applications include sprinkling this blend on vegetables for some extra flair.
1.5 oz Tin
Brownulated Sugar, Salt, Garlic, Honey powder, Black Pepper, Paprika, Onion, Thyme, Basil, Rice Concentrate, Fennel Seed, Citric Acid
Made in Asheville, NC