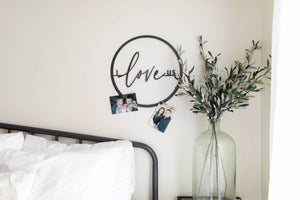 DIMENSIONS: 16"x 16"
WEIGHT: 11oz
Hang this beautiful sign in your kitchen, dining room, living room, or bedroom to help celebrate your love.  The outer circle also makes a perfect spot for your favorite pictures or cards.  Just use a magnet to hold them on.  
CARE INSTRUCTIONS: This sign is made out of mild steel, so we recommend hanging indoors if you want to avoid any chance of rusting!
Signs can also be easily weather-protected by coating it with Rustoleum Spray Paint.
A slightly damp cloth can be used for fingerprint removal or other markings; dry product quickly as oxidation may occur if water is left on the product for too long.
Because we use recycled steel, each piece will be unique and may have slight markings or patina.
We recommend hanging most of our signs with velcro 3M command strips!