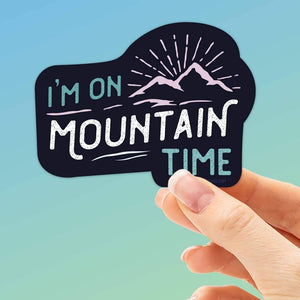 Mountain sticker, 3.75" wide.
I'm on Mountain Time! Regardless of whether you live in the Mountain Standard Time zone or not, we can all relate to the desire to be on "mountain time". It's a state of mind...being IN the mountains certainly helps with that mindset too! 
This colorful, eye-catching vinyl mountain decal will remind you of winding roads, hiking trails, tranquil meadows, lush forests, babbling creeks, and fresh mountain air.
Perfect waterproof sticker for your water bottle, or place it on your car bumper or back window. 
Dimensions: 3.75" wide x 2.75" high (perfect Hydroflask or laptop decal size).
Waterproof die cut vinyl with a UV laminated matte finish designed to endure many years of travel and use indoors and outdoors.
Made in Idaho, USA.