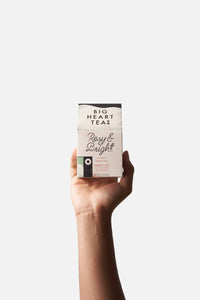 Hibiscus and rose blended with cinnamon and Assam black tea. Brews a beautiful magenta cup with a hint of holiday spice.
Crafted to keep you rosy and bright this holiday season.
INGREDIENTS: ORGANIC ROSE, ORGANIC HIBISCUS, ORGANIC CINNAMON, ASSAM BLACK TEA
We designed our bags extra big to give the tea room to fully expand and breathe while it steeps. Contains 10 compostable tea bags.
Dimensions:  3"Wx2.75"Lx5.25"H
Certified Organic by ODAFF
100% recyclable outer packaging and 100% compostable inner packaging