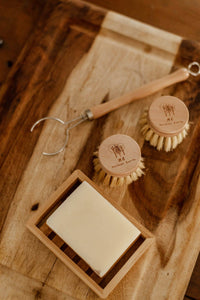 This is a replacement head for our kitchen brush made from beechwood with sisal fiber (agave plant) bristles.
Great for everyday cleaning; gently and effectively scrubs dish ware, glassware, pots and pans, inside jars, etc.
Hang to dry in between uses, on a dry towel or elevated to allow bristles to drain.
Never leave soaking in water as it will wear on the wood causing it to crack or may cause the natural bristles to fall out.
Heads last about 6 months, and handles last a 2+ years.