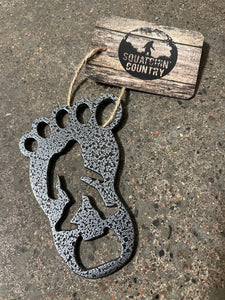 This bottle opener is the perfect size to keep in your pocket, so you'll have it ready on camping trips or on long hikes through the woods.
It has lots of holes for hanging wherever needed. Also works great as a spool to wind up spare twine or utility cord for wherever you might need it.
The thick 11 gauge steel makes an extremely tough bottle opener and the two tone powder-coat finish will make it look nice for many years to come.
Each bottle opener includes a lightweight spring clip to attach it to your belt loop or backpack, so you know where it is when you need it.
You might not be able to find Sasquatch, but at 4" long, you'll certainly be able to find your Bigfoot bottle opener when you need it!